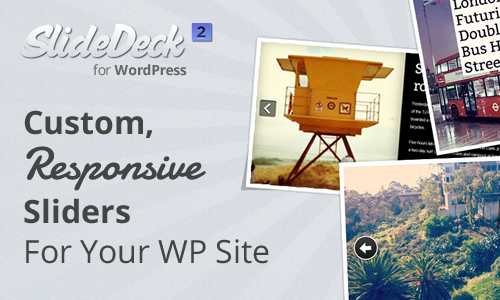 Create Amazing Sliders For Your WordPress Site
by SlideDeck
Easily Present Your Content Beautifully w/ this Awesome WP Plugin
Description
Create Responsive Video + Image Sliders in Seconds
Are you a designer? Or do you have a WordPress website? Have you been looking for a way to present your content in a beautiful way? If so, then you've come to the right place.
Create Responsive Sliders for Your WP Site
No Coding Required.
SlideDeck 2 enables you to build stunning content sliders for your WordPress site without any coding. Add images, text and video, embed your own custom HTML, or even dynamically pull content from your favorite sources, like Instagram, YouTube or RSS feeds.
What is a SlideDeck?
When you go to a website and you see those really sweet graphics and/or videos sliding from one to the next like a slideshow, that's a SlideDeck. They can have different looks and capabilities but they pretty much give you the capability to display your content in a really cool way.
SEE EXAMPLES HERE.
Create Custom SlideDecks
Create SlideDecks using images, video, text and HTML. Our slide-by-slide editor makes creating SlideDecks easier than ever! You can even utilize our beautiful lenses to instantly change the look and feel of your SlideDeck.
Multiple Content Types
Mix and match content types as you add slides. Upload photos, add video URLs, write text and even embed your own HTML code.
Easy WYSIWYG Editor
Easily add captions or body text to any slide. Each slide has multiple layout options or you can create your own with HTML.
Drag and Drop Slide Order
Add and remove slides in seconds. Drag and drop your slides to rearrange them.
See Your Existing Content in a New Light w/ Lenses
We designed the Lenses in SlideDeck 2 to give your content a beautifully crafted presence. With 9 lenses (and more on the way), SlideDeck 2 gives you tremendous flexibility and power to make your content kick ass.
One Content Source, Many Looks
Lenses are highly configurable slider themes that you apply to your content for gorgeous results. Dramatically change the appearance and behavior of your SlideDecks in just a few clicks.
Top Features
Lenses
Lenses are highly-crafted preset styles to make your content look great. Use them right out of the box or choose from a host of customizable parts to tailor them for your site.
Slide Content
Two easy, powerful methods: Dynamic Source & Custom Content. Dynamic Source: display content from your favorite external sources.
Your WP posts, Pinterest, Youtube, Twitter, or Flickr
Custom Content: perfect for homepages, product tours and presentations.
Customization
Tailor everything to your style. Nearly everything involved in your slider is up for grabs in SlideDeck 2. Modify text content, navigation, transitions and many other elements of your deck easily in a beautiful user interface.
Usage
Place SlideDecks anywhere: Slidedeck works anywhere on your WordPress site and it's incredibly simple to implement. It works great in full-size applications like homepages, product tours and portfolios, as well as scaled down in sidebar and footer widgets.
The Goods - The Developer Package
Unlimited Sites
Responsive sliders
Completely unbranded
13 content sites
Multiple sources per deck
Configure lenses
Covers & sharing overlays
Live previews
1 year of free updates and support
Reporter lens
Custom image sliders
Custom video & text slides
Classic lens
Custom HTML slides
Lens editing
System Requirements
Requires WordPress v3.3 or higher and a modern browser
Important Reminders
15 day refund policy
Promotion is valid for the SlideDeck Developer LIcense
Upon purchase you need to follow the redemption instructions in your account to redeem your purchase
Terms
15 day refund policy
Promotion is valid for the SlideDeck Developer LIcense
Upon purchase you need to follow the redemption instructions in your account to redeem your purchase