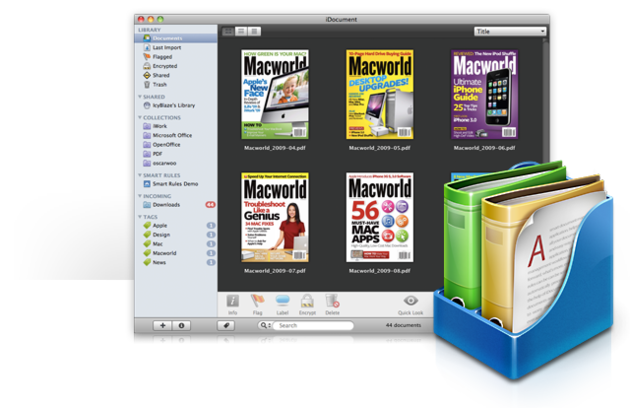 by IcyBlaze
The Simplest and Smartest Document Management Application For Mac
Description
Get Organized With This Smart Document Management Software for Mac
The intuitive design of iDocument makes document organization as simple as using standard Mac programs like iTunes or iPhoto and now you can get it for ONLY $30!
Stop spending hours trying to find that document you saved 6 months ago…
If your desktop look anything like ours, you probably find yourself squinting at the screen to find that one document that you know is there…you just can't remember where you saved it. Well,
problem solved
.
iDocument's Top Two Advantages:
Drag and Drop
iDocuments centralizes your documents and condenses the 50 folders that clutter your desktop into one easy to access spot so you'll always know where to find your documents.
Easy Management Flow
After you have all the documents stored in your centralized library you can start viewing your documents in different ways.
A new layer concept: Collection is introduced to make a more clear structure. It is defined as the hyper level in the structure. With this extra layer, the weight of each layer becomes so obvious and finally gives you a very clean and tide library.
The ability to browse all documents from the top level of a structure, you'll never need to open levels of folders to locate your target documents.
If you already had your documents organized previously in finder, you'll be able keep your previous folder structures right in iDocument by drag and drop your folders into the Collection section. And it is all considered.
More Features of iDocument:
Auto detect new documents in Mac
Wide range supported document formats
Easy drag & drop interface
Open-meta data tag system
Deep document content search ability
Batch editing processing ability
Smart if...then do system
Documents highlight features
Document password encrpyting feature
Terms & Conditions:
This license is valid for a single user
30 day no-questions-asked refund policy
Terms
Unredeemed licenses can be returned for store credit within 30 days of purchase. Once your license is redeemed, all sales are final.