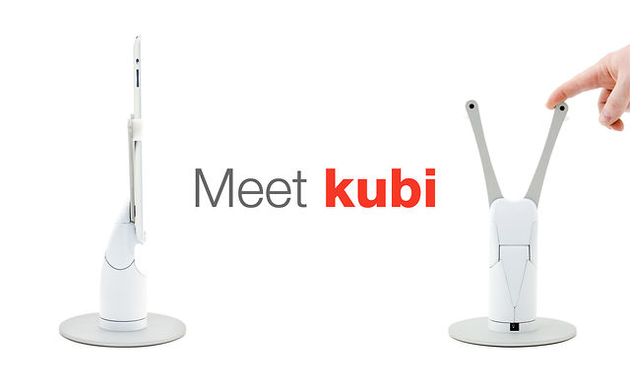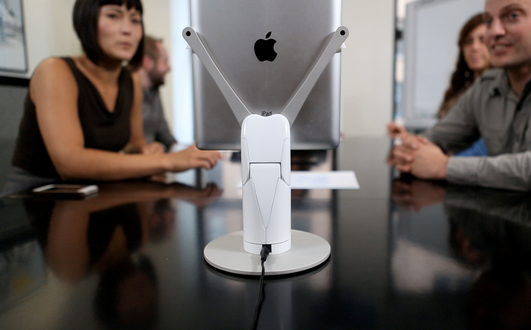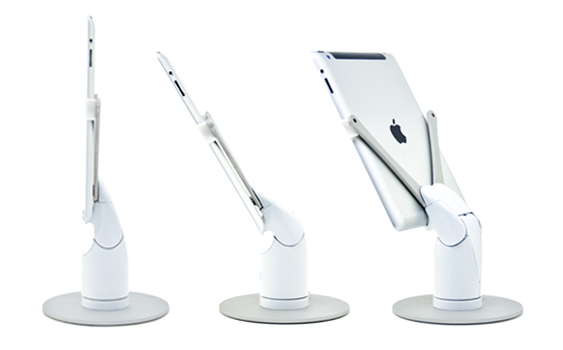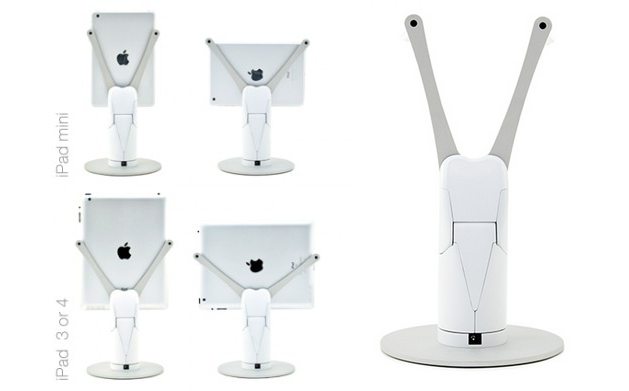 Kubi: The World's First Robotic Tablet Stand
by Revolve Robotics
A Web Controlled Stand For Awesome Hands-Free Video Chats
Description
Please note: this is a pre-sale promotion (product will ship in late July) and is valid to continental USA customers ONLY. All sales are final and the sale price includes shipping.
The World's First Robotic Tablet Stand!
Why We Love It
It's pretty simple...we're tech geeks and this innovative creation screams a quality design and an amazing user experience -- two facets of any product that we absolutely love. Not only does it allow you to connect with anyone via video conferencing but it also gives you the freedom to look around the room in real-time which truly makes using Kubi a one-of-a-kind experience. Not to forget, it practically works with any tablet which doesn't hurt its appeal either.
What Is Kubi
KUBI is a cloud controlled robotic desktop stand that enables you to look around and interact over video calls. An affordable and practical telepresence solution, KUBI is compatible with most consumer and enterprise video clients, many of which are creatively integrating KUBIs cloud controls into their video feeds. It's compatible with almost any Bluetooth LE enabled tablet from an iPad mini to a Microsoft Surface in portrait or landscape orientation and experience how natural video chatting can be when you control your own video feed. Look around and follow the action! Get in the conversation!
Rave Reviews
Click here for Mashable.
Click here for TechCrunch.
Click here for VentureBeat.
Click here for Wired.
Practical Uses of Kubi Include:
Affordable telepresence solution for conference rooms
Keep in touch with family with more a more natural connection
Supervise production and manufacturing in factories
Check in on loved ones in nursing homes, nurseries, pet hotels
Features
Smooth 300° pan and 90° tilt motion driven by two precision servo motors
Geared center design for easy, one handed tablet mounting
Wall powered or on-board battery for approximately 4hrs of use
Most tablet charging ports accessible while mounted in KUBI
Wireless Bluetooth 4.0 connection - no cable compatibility issues!
Does not interfere with other Bluetooth audio devices
Open motion control API, compatible with any OS - anyone can create new applications!
Injection molded plastic body with a durable finish
Arms and plate are bead blasted, electro-polished and anodized aluminum
Removable base plate for travel
Standard tripod screw mount for use on tripods and photo-clamps
Want to Try Out Kubi?
Connect to one NOW at the Revolve Robotics offices:
1. To view video from a Kubi at the Revolve Robotics office using Google Hangout click
HERE.
2. To control the Kubi, click
HERE.
(NOTE: must be from a different mobile device or new web browser window on laptop than the Google Hangout)
What's In The Box
1 KUBI with base plate
1 AC to USB adapter
6' USB to mini USB cable
Instructions
Compatibility
Fits ALL tablets 7.9" to 10.6" screen size (iPad mini to Microsoft Surface) in both portrait and landscape.
FREE Shipping Information
This is a pre-sale promotion because Kubi is still currently in production so your purchase will not ship until late July 2013. If you end up buying Kubi you'll be receiving updates from Revolve Robotics about your purchase as to when it's going to ship. This promotion is available to continental USA customers only but the shipping cost is included in the purchase price.
Important Reminders!
No refunds
Promo available to continental USA customers ONLY
This a pre-sale promotion: meaning that your purchase won't ship until late July
Once product is shipped you'll receive a confirmation email let you know your product has been shipped
Promo price includes the cost of shipping
Terms
No refunds
Promo available to continental USA customers ONLY
This is a pre-order promotion: meaning that your purchase won't ship until late July
Once product is shipped you'll receive a confirmation email let you know your product has been shipped
Promo price includes the cost of shipping