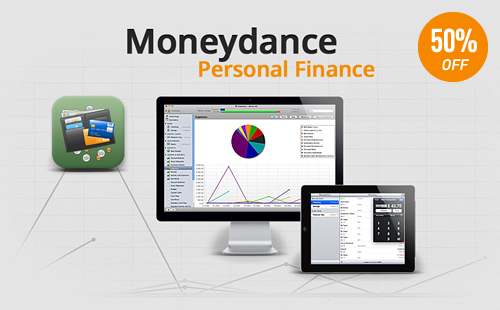 Save Time & Money With Moneydance For Mac
by The Infinite Kind
Bring Balance to Your Checkbook
Description
Get Your Mind Off Your Money
It's your money, and we all know keeping track of your money isn't an easy thing to do -- until now. Moneydance gives you a complete financial management solution so you can pay your bills, balance your checkbook, and track your investments - automatically. Not only can you input this information in this intuitive Mac app but you can also sync any changes on the go with their free mobile app. Worried you might miss a payment? You can even set reminders so you never miss one again.
Why We Love It
Plain and simple, managing your finances can suck and this app was created to change that. Its easy-to-use interface and its syncing capabilities make for a streamlined experience that will get you saving your money, rather than washing it away. It easily handles online banking, account management, budgeting, and investment tracking all in this single application and the best part -- you don't have to pay thousands of dollars to hire a financial manager. Now you can make your own financial decisions with Moneydance.
User Reviews
"Moneydance is...fast, well-designed, regularly updated, and well supported, and which seems to have a very satisfied user base—superlatives not often used in conjunction with Quicken, the major player in the Macintosh personal finance market." —
Macworld Review
"Moneydance...is a much more solid contender. This program manages to replicate much of Quicken's functionality -- but in some cases a bit more elegantly..." —
Washington Post
"Moneydance...has a lot going for it: Online banking and bill paying are as automatic as they can be, investment information can be imported easily, budgets can be made and tracked, checks can be written and printed, and the list goes on. To top it off, Moneydance has numerous extensions that bring even more functionality to bare, including stock price updaters, debt payoff calculators, and more." —
Top Ten Reviews
Key Features
Connects all your money management needs into one convenient place
Automatically download transactions and send payments from hundreds of financial institutions
Software "learns" how to categorize transactions
Dashboard overview shows account balances, upcoming and overdue payments, and exchange rates
Graphing tool allows you to seamlessly visualize your income and expenses
Schedule single or recurring payments and set reminders
Automatically syncs data across multiple devices
View performance of investment accounts over time
Intuitive functionality and simple interface
Downloadable extensions to suit your needs
System Requirements
Intel, OS X 10.6 or later
Important Reminders!
30 day money back guarantee
Upon purchase you must follow redemption instructions located in your account to download and activate your software
English version ONLY
Terms
30 day refund policy
Product is downloadable
Product is valid for one (1) license per customer
English version ONLY
System Requirements:
Intel, OS X 10.6 or later