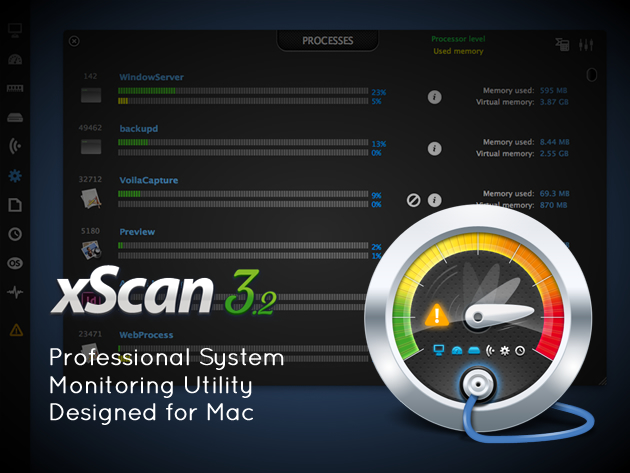 Optimize Your Mac w/ xScan
by adnX
Professional Diagnostic Software for Mac
Description
Is Your Mac Overdue for a Checkup?
Your Mac is a finely tuned, intricate machine. Just like a car, every aspect of your Mac plays a crucial roll in your computers overall performance. This intuitive Mac software has been specifically designed to
help
you monitor the behavior and health of your Mac in a simple and straightforward manner. This is the same software many professionals use to diagnose technical issues with Mac operating systems and now you can get it for a third of its original price. This intuitive piece of software works in real time and will alert you when an issue arrives. Not only is it the inspector gadget of Mac's but it will also provide useful tips to help you fix your issues. Consider it lifetime health insurance for your Mac for
only $10
.
Why We Love it
It's simplistic interface is so simple to use it's like looking at the dashboard of your car. Watch as xScan works in real-time to help you keep your Mac working like it's brand new. When it comes to an intuitive app that helps you enhance the power of your Mac we're all about it. xScan does just that.
Top Features
Detects all hardware and hard drive failures
Customizable alert management including optional email alerts
Monitor the behavior and temperature of processors
Monitor the size of your disks space, even for hidden partitions
And much more
Credibility Stamps
"xScan is a product I stumbled upon in the Download section of Apple.com. This rocks, rolls, and is the Swiss Army knife that EVERY Mac should come with. I have downloaded a number of products and none of them even come close to xScan." -
Brock
"I just found out that I had a fan problem, didn't even know it before I had this app. So it already worth the money. Also, great customer support. I wrote them an mail, and shortly after I received a reply. So just go get it. You wont regret it!" -
Rene
"Works perfectly and smoothly. This is a nice way to keep an eye on everything that happens in your Mac. I recommend it 100%." -
Kevin
"This is the most complete system monitoring utility I've seen." -
Jefferson
"So far, very impressed. It's great to have a utility that gives you important information at the touch of a finger" -
Dennis
"xScan is the absolute best diagnostic software for Mac. The user interface is truly a work of the art that makes the experience of diagnosis a pleasure. CheckUp is efficient, easy to use, yet innovative. Definitely gets a spot in my dock" -
Logan
Terms
30 day money back guarantee.
This is digital software that is completely downloadable instantly upon purchase.
Requires OS X 10.6 or later.
Available in English, French, German, Italian, and Spanish.