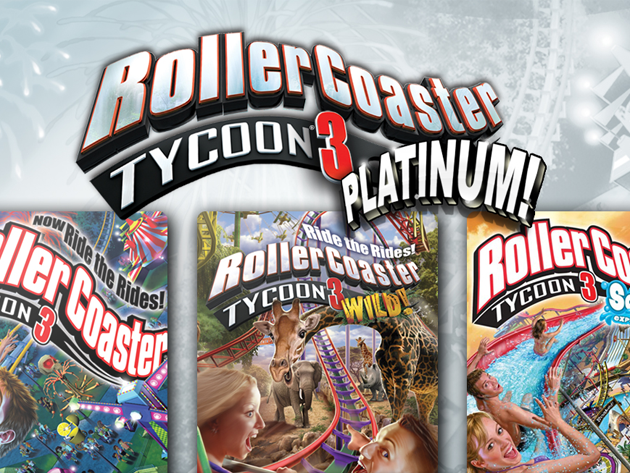 RollerCoaster Tycoon® 3: Platinum
by Atari
Build The Theme Park Of Your Dreams #BackToSchool
Description
THE DROP OF DOOM
RollerCoaster Tycoon 3 Platinum combines the excitement of rollercoasters with the fun of an epic strategy simulation. This special "Platinum" version combines the theme park fun of Roller Coaster Tycoon 3 with included expansion packs,
RollerCoaster Tycoon 3 Soaked! and RollerCoaster Tycoon 3 Wild
!
WHY WE LOVE IT
Who doesn't love to let their imagination run wild every once and awhile? This platinum version will give you the tools you need to build coaster filled amusement parks, water rides that'll never end, and the ultimate 'safari' style parks that'll cover all of your theme park dreams. Ride your rides, build your concessions, and let your creativity run free to create the theme park of your dreams. Plus, the
game is redeemable through Steam
, a super easy gaming platform where you can keep all your games in check.
TOP FEATURES
Grab a front seat for the ride of your life with the jaw-dropping Coaster Cam
Live every spine tingling detail in 3-D with fully controllable cameras
Cope with changing weather patterns and enjoy beautiful vistas, sunsets, moonlight, and more
Spice up any backgrounds, rides, fireworks display and laser light shows with your own music
Create savage encounters and thrilling safaris
Play through dozens of scenarios in three difficulty modes or build without limits in Sandbox mode
THE PROOF
"Roller Coaster Tycoon has been one of the most successful of the 'tycoon' games on the market today, and it's easy to see why. RCT is probably, down and away, one of the most fun and addictive of all the tycoon games. This version of RCT3 now has all the expansions included with the main game: "Roller Coaster Tycoon 3," "RCT3: Soaked!", and "RCT3: Wild!"." -
Bruce Gray
"I remember this game from years ago and its just as fun as ever. I would recommend it to anyone who likes strategy games." -
Molly Johnson
"This is a very interesting and well done game. Endless challenge to develop new ideas in parks and terrain. I never tire of building the parks." -
Walter Bridgman
SYSTEM REQUIREMENTS
Mac OS 10.7+ or Windows® 2000/XP/7/8
Processor: Intel Core 2 Duo (Dual-Core)
CPU Speed: 2.0 GHz
Memory: 2 GB RAM
Hard Disk Space: 2 GB
Video Card (ATI): Radeon HD2600
Video Card (NVidia): Geforce 8600
Video Memory (VRam): 256 MB
Peripherals: Macintosh mouse and keyboard
Terms
30 day refund policy
Upon purchase you'll receive a Steam code to redeem your game
Available for download upon purchase
If you haven't already, you must download Steam (free) to activate and play your game
English only