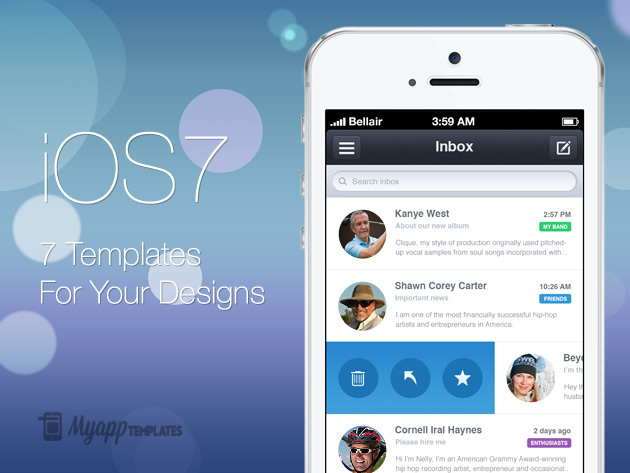 Seven Professionally Designed iOS 7 Templates
by MyAppTemplates
Take Your App Idea From Concept to Prototype in No Time
Description
THE GOODS
*iOS 7, so hot right now. iOS 7.* Maybe you've got a great app idea for this beautiful new platform, but you *suck at design*. Aesthetically challenged app-makers: have no fear, because *these templates give you great design without the skills* or services of a designer. You'll spend *at least $1,000* hiring an app designer, so forgo the risk and investment and grab these templates instead. With *seven beautiful, custom templates* created by experienced mobile designers, you have options that are ready to use immediately, *saving you hours of coding and designing*. All themes are *coded in high-quality, native Objective-C and Java code*, the best foundation to build your app. Plus, each template comes with the original Photoshop .PSD files and editable (in XCode) Objective-C source code, so you can *customize to your heart's content*.
WHY WE LOVE IT
These seven templates not only give you *tons of flexibility to create a wide variety of apps*, but they're all *optimized and updated for iOS 7*, looking clean, mean, and ready to go. It couldn't be easier to start editing your app - just open the included XCode Project up in XCode (which you can download for free
HERE
), and you're good. You can even play around with your prototype on the included simulator or on your iPhone.
TEMPLATES
Mail
- Click
HERE
to see a full preview. Looking to build out *your improved version of the native iOS mail app*? This is where you should start. This template was *designed using the best elements from Gmail and Mailbox*, so you have plenty of intuitive features to work with.
Main navigation screen – features an awesome Facebook iPad app-inspired design
Inbox screen – with unique slide buttons built in
Compose screen – with unique messaging and social icons
Read messages screen
Elements screen – tons of custom buttons and elements
Activity
- Click
HERE
to see a full preview. Your iPhone has the capability to be the ultimate fitness tool when running the right app. If you want to iterate on apps like Fitbit, Nike+ Running, RunKeeper or even Zombies Run!, get a running start with this template.
Run timer screen - with calories burned and heart rate
Run history screen - showing distance covered, calories burned, and heart rate
Run settings/Start screen – with option to track run manually or with GPS
Maps screen - shows nearby and favorite routes
Elements screen – which has all of the buttons and elements that you'll need
Band Mate
- Click
HERE
to see a full preview. Musician? Looking for a great way to showcase your tracks and build a following? Pulling features from top music apps, this template is focused on finding and sharing new music.
Profile screen – features a tweet button and song playlist
Music player screen – with play, rewind, pause buttons and volume bars
Update (social network) screen – with reply, retweet, and favorite buttons
Blog post list screen
Blog post screen
Splash screen – with Twitter login
Main navigation screen
UI Elements view – tons of sleek, customizable UI controls
SocialShare
- Click
HERE
to see a full preview. If Twitter, Instagram, or Fancy are your inspiration, this template brings you one step closer to creating that hit social sharing app - now updated, flattened and optimized for iOS7.
Activity feed - in Instagram format
Profile view - with intricate design features
Upload view - with thumbnail images
Explore grid view - horizontal scrolling image sections
Photo detail screen - with comments and likes
Elements screen - tons of sleek, customizable UI controls
Food
- Click
HERE
to see a full preview. Give a man a meal, he'll eat for a day. Teach a man to cook, he'll eat for a lifetime. Ok, that's not the expression, but that doesn't make it untrue. Create the next culinary social network with this beautiful, custom food app.
Food categories view - with custom icons and indicators
Social login screen - with email, Facebook and Twitter logins
Custom iOS 7 tab bar
Detailed table view - thumbnail images and icons
Recipe detail screen – with intricate design touches
Elements screen - with heaps of customizable UI controls
Talking
- Click
HERE
to see a full preview. Simplicity, the essence of iOS 7. This template embodies that ideal, because its simple design makes it flexible enough to become whatever you have in mind for a social app.
Home screen dashboard
Profile view - with thumbnail and bio
Search view - by name, group, or @usertag
Big feed view - in Twitter format
Money Social
- Click
HERE
to see a full preview. Sporting a native iOS 7 tab bar, and beautiful custom screens, this template has a range of cool features that build and run straight away in xCode.
Profile screen – native with iOS7 style navigation bar
Following screen – sleek, flat iOS7 design elements
Photos view and messaging screen - in-app messaging capable
Settings view - with flat design elements
Elements screen – tons of cool custom controls
COMPATIBILITY
Adobe Photoshop to edit files
XCode 5, available for free from the Apple Developer site
All templates include an XCode Sample Project
iOS 7 compatible
Original Photoshop PSD files in Retina resolution
25+ Sliced PNG's in Retina and standard resolutions
Terms
30-day refund policy
These are digital files that are completely downloadable instantly upon purchase
Files include all minor upgrades
Upon purchase, follow the redemption instructions located in your account to access your templates