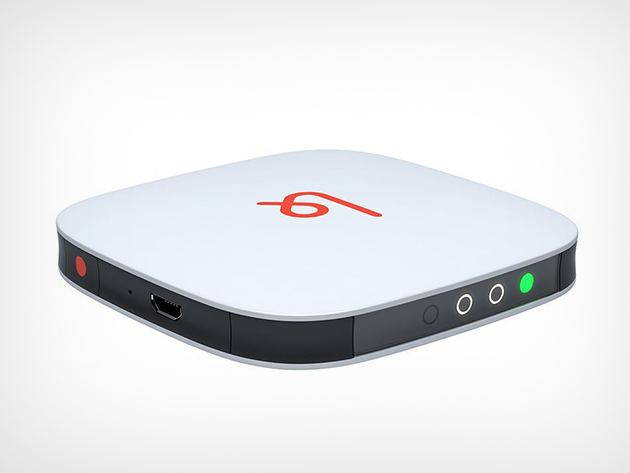 The Karma WiFi Hotspot + 1GB Free Data + FREE Shipping is Our ThanksGIVING Special
by Karma
Give the Gift of WiFi and Get (Good) Karma
Description
KARMA GO
Karma's all-new LTE device, Karma Go, puts ultra-fast WiFi in your pocket. One tiny box can keep all your devices connected to the internet, wherever you go in the US. For a limited time, you can pre-order Karma Go for $99, a 33 percent discount, and receive 1GB of free data with your order. With Karma, there are no strings attached: no monthly fees, no two-year contract just to get in the door. You simply pay for the data you use, and that data never expires. It might sound bizarre, in an era of internet price-gouging, but it's really just common sense. Karma gives you control over your own internet destiny, and also over your own pocketbook.
WHY YOU'LL LOVE IT
Karma Go has everything that was great about the original Karma, but now with nationwide LTE coverage. With WiFi everywhere, it stops being something you stress out about. You start thinking about what you want to accomplish, instead of how you're going to be connected. Karma Go finally ends the WiFi treasure hunt. The Karma Go hardware is slick, tiny, and simple. There's only one button, the power button, and Karma makes beautiful apps for iOS and Android to monitor your usage and buy more data. In an ocean of ugly, complicated, and expensive hotspots, Karma Go is a breath of fresh air. Karma wants to remove all barriers to mobile internet access. With this limited time offer, there's never been a better time to join their mission. Take back the internet.
TOP FEATURES
Nationwide coverage - Connect anywhere in the US with LTE and a fallback to 3G CDMA
Ultra-fast LTE data - 6-8 Mbps downloads, with peaks up to 25 Mbps
WiFi to share - Connect up to 8 devices at once, and earn 100MB of free data when you share your connection with others.
Pay-as-you-go data - $9.90-$14/GB. No contracts. No subscriptions. No hidden fees.
Lightweight & Compact - At 2.6" wide, 2.6" high, 0.5" deep, and weighing in at 2.1 oz, Karma fits right into your pocket and is small enough to take with you everywhere you go.
WHAT YOU'LL NEED
Connects any WiFi-enabled device and up to 8 total devices. Nationwide coverage, To see if your area is covered,
CLICK HERE
PRODUCT SPECS
Dimensions: 2.6" wide x 2.6" high x 0.5" deep, weighing in at 2.1 oz
Network: Sprint's 4G LTE + 3G CDMA Fallback
Speeds (Mb/s): 2-3 Upload / 6-8 Download 25 Peak
Connects eight (8) devices simultaneously
Battery Life: 220 hours (stand by) 5 hours (in use)
IN THE BOX
One (1) Karma Go 4G Hotspot
One (1) Micro-USB Charging Cable
1GB of FREE Data
FAQS
How much does data cost? – With Karma, you pay only for the data you need, when you need it. 1GB costs $14. Share your hotspot connection to earn 100MB of free data. Every single time. The more you share, the more you earn.
Do I pay for other people? – Never. Everyone picks up their own tab. Anyone can connect to your hotspot, but you will only share the connection itself, never each other's data.
Is it safe? – You have nothing to fear. Karma is as safe as WiFi in your coffee shop. Most sites use HTTPS, like Facebook and Google, making your connection secure.
What's the range of the WiFi signal? – Your hotspot has a range of approximately 100 feet. But of course, this all depends on your surroundings. Thick walls, bad. Open areas, good.
Does my data expire? – Never. Data stays stored in your account with absolutely no expiration date. Use it in the future, whenever you'd like.
Can I cancel my account? – Yes, of course. With Karma, you'll never have any contracts or commitments.
Shipping
See Shipping Countries

Free Shipping
Terms
30-day refund policy.
Data does not expire and does not require contract or monthly subscription fee.
Promotion only available to customers in the US and Canada. APO/FPO and P.O Boxes Not Included.
Please allow up to 5-7 days for delivery.