The Entertainment Games Bundle
What's Included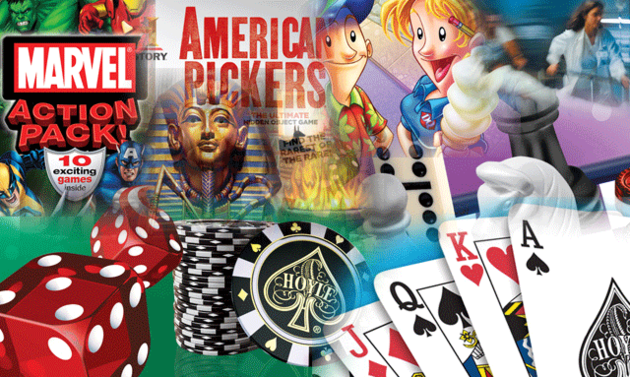 $160.00

Value
The Entertainment Games Bundle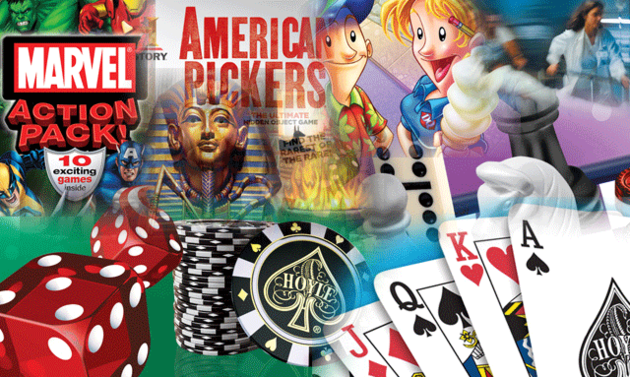 The Entertainment Games Bundle
Description
A Bundle Of Games Everyone Will Love!
Love playing cards? How about hitting the Casino? Are Superheroes your thing? Have you ever wanted to be a detective? Perhaps a surgeon? This awesome game bundle allows you to rock all of these. Wherever. Whenever. Most of the included games have multiple games and variations. Stack up your system with HUNDREDS of games! Most of these are tried and true classic that will never get old. Kiss bordem goodbye for
only $59
! Find all included games below:
Hoyle Casino Games 2012
Step up and place your bets! HOYLE Casino Games 2012 delivers the best Vegas-style casino action for your PC and Mac offering a full range of your favorite casino games.
All the Fun Without All The Heartache
Don't wait for trip to Vegas to play your favorite casino games... Hit the jackpot with the most comprehensive collection of casino games available for your computer! Feel the rush and excitement of the casino floor from the comfort of your home or office. With an easy-to-navigate user interface, large cards and fast game play, Hoyle Casino Games 2012 will make you feel like the VIP you are. It's all-or-nothing in this fast-paced collection where you can ""double down"" or go ""all in"" without breaking the bank. There are no limits to the fun these casino games bring!
Top Features
600 variations of authentic casino games
Realistic poker tournaments
Quick-play to keep games exciting
Create a character or choose from a selection of 25 pre-made ones
Adjustable difficulty levels
And much much more!
Hoyle Puzzle and Board Games 2012
What time is it? GAME TIME! Improved for 2012, HOYLE is offering your favorite classic games including: Chess, Backgammon, Crosswords, Mahjongg, and much more!
The #1 Puzzle & Board Game Suite just got Better!
Throw the dice, shuffle the cards and put your strategy to the test with latest version of HOYLE Puzzle & Board Games. Improved for 2012, HOYLE is offering your favorite classic games including: Chess, Checkers, Backgammon, Kakuro, Crosswords, Mahjongg, Word Games and much more! This epic collection of over 1,000 puzzle and board game variations includes traditional favorites plus new games to challenge your skill, strategy and wit. Twist your vocabulary in ways you never thought possible with fun and unusual Anagrams, Crosswords and Word Searches. Don't bother pulling that dusty chess board off the shelf or sifting through the newspaper for the latest crossword puzzle, purchase Hoyle Puzzle and Board Games 2012 today and get more value for your entertainment dollar! With new and classic games, this collection is chock-full of fun!
Top Features
Over 1,000 puzzle and board game variations
Customizable gameplay speeds
Play with friends or against the computer
Create a custom character
Includes all rules so you can learn to play all included games
Adjustable difficulty
And more!
HOYLE Card Games 2012
Shuffle the cards and deal yourself in to the greatest card game collection of all time. Large cards, fast game play and an easy-to-navigate user interface makes Hoyle Card Games 2012 entertaining and fun. The deck is stacked in your favor with quick game play, so take a break from everyday hustle and that tedious treadmill. Don't wait until Friday night to play your favorite card games, get this bundle and get in the game today!
Pull Up a Chair
Hoyle Card Games 2012 is the largest & most comprehensive collection of card games available for your computer! Choose card game favorites like Poker, Gin Rummy and Hearts or try your hand at Cribbage, Euchre or Spades. Over 45 varieties of Solitaire, take a break from everyday life and train your brain. For the young or the young-at-heart, get in on some Go Fish, Old Maid or War. The deck is stacked in your favor with quick game play, so take a break from everyday hustle and enjoy the most classic games in history. The perfect opportunity to learn any and every card game!
Top Features
Over 150 games
Compete in tournaments
Create a player that looks just like you
Adjustable difficulty
Bring back the good ol' days of computer solitaire
And much more!
American Pickers The Game
Live out the hit TV series! Now is your chance to join Mike and Frank as they journey across the country looking for rusty gold! With their popularity on the rise, the American Picker's business is growing too fast for Mike Wolfe and Frank Fritz to keep up with. Eventually, they realize there is simply no way they can be everywhere at once, and decide to hire a new team to lend a helping hand.
Roll Up Those Sleeves
Take on the role of a rookie picker and hit the back roads of America attempting to strike gold by finding and buying items that are both unique and valuable. In addition to this adventure, players will also get a chance to piece together some of the rarest collectibles still thought to be in existence - ones that Mike and Frank have been looking for their entire lives.
Top Features
30+ unique hidden object scenes
Use your negotiating tactics to strike gold
Hundreds of items in each location for a long lasting gaming experience
Audio clips taken directly from the TV episodes
And more!
The Marvel Action Pack
10 amazing games starring everyone's favorite Marvel superheroes! This bundle within a bundle contains classic arcade style games that never get old. Jam-packed with hours of Marvel entertainment! This game alone makes this $29 game bundle worth it! Definitely something to Marvel at.
Included Games
Wolverine MRD
Wolverine Search & Destroy
Hulk Vs.
Hulk Bad Altitude
Hulk Central Smashdown
Captain America: Red Skull and Crossbones
Iron Man Armored Popper
Iron Man Flight Test
Iron Man Amory Assault
Iron Man Flight Test 2.0
The Lost Cases of Sherlock Holmes
A lavish mystery adventure game, featuring 16 unique cases of forgery, espionage, theft, murder, and more. This great little game let's you put on Sherlock Holmes' famous Deerstalker cap so you can solve exciting cases first hand. Aside from putting your detective skills to the test, have fun with included anagrams, cryptograms, jigsaw, memory, and much much more!
Top Features
Play as Sherlock Holmes and solve 16 imaginative cases
Solve more than 100 mind-bending puzzles plus minigames
Investigate hundreds of potentially relevant clues and lively characters
Explore 40 historically accurate locations around London
And more!
Hoyle Slots
Hit the jackpot with the latest slots from the #1 brand in Family Entertainment. All the joys of a slot machine without the cigarette smoke! Everyone loves giving the old slot machine a yank. Now you can do it without losing your paycheck. The stakes may not be as high but the level is fun is still way up there.
Top Features
12 mechanical slot machines
23 video slot games with up to 20 paylines
Realistic graphics and sound effects
Animated bonus rounds for even more fun
And more!
Lost Secrets Bermuda Triangle
Too scared to visit the Bermuda triangle first hand? Us too! Now you can check it out virtually! Search for missing ancestors with help from a sea-worthy salvage captain and hopefully uncover a long lost case of search and rescue. The Story begins when a librarian discovers that she has a relative who went missing as a part of a famous wreck in the mysterious seas of the Atlantic. Hop into her shoes and take to the water! With a knowledgable captain as your only crutch, attempt to sort out fact from fiction as the modern day Pirates of the Bermuda Triangle "help" you along your way...
Top Features
28 levels plus 8 mini-game missions
100s of hidden objects throughout each level
Examine shipwrecks plane crashes, salvage yards, and more
Use tools to help find the most difficult objects
Find clues to decipher fact and fiction
And more!
Lost Secrets Ancient Mysteries
Uncover the secrets of King Tut's Tomb! In this Hidden Object game you will play the role an archeologist who discovers a possible solution to the mystery of King Tut's short reign. Working against you will be an ancient brotherhood who is dedicated to preserving and protecting the memory of the pharaohs. On multiple occasions you will be confronted with problems and puzzles that the brotherhood has in place to stop you from uncovering the "truth".
Top Features
Pick up clues to decipher ancient codes
Hundreds of gems in each location
Credit based hint system
10 Acts with 50+ levels
Discover hidden objects and clues
Fantastic mini games
And more!
Dairy Queen Tycoon
I scream. You scream. We all scream for ice cream! Be the manager of your very own Dairy Queen in this fun time management game. DQ Tycoon serves up Dilly Bars, Blizzard Treats, and all the rest of your favorite DQ menu items. Help Emily work her way up from an employee at a local DQ treat store to the manager at the new DQ Grill & Chill. Along the way she will need to make DQ cakes, dip soft serve cones, and serve up a juicy Grill Burger to satisfy customers.
Top Features
35 levels filled with tasty treats and delicious food
The DQ Tycoon menu includes all your favorites from Dairy Queen
Hire staff to help meet the growing demand for treats and food
Fantastic cake prep and treat prep mini games at the end of each week
And more!
Important Reminders
No refunds
Upon purchase you will receive a unique serial code that you will have to use to gain access to all of your download links for each game
All software is Mac OS X and PC compatible
Mac OS X 10.5+
Works with windows XP, Windows Vista, & Windows 7
Terms
No refunds
Upon purchase you will receive a unique serial code that you will have to use to gain access to all of your download links for each game
All software is Mac OS X and PC compatible
System Requirements
Mac OS X 10.5+
Works with windows XP, Windows Vista, & Windows 7