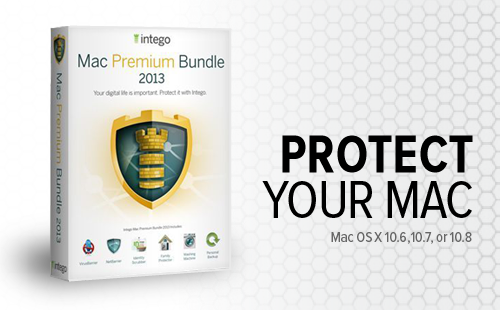 One Year Of Premium Mac Protection
by Intego
Six Apps To Keep Your Mac Hack Free
Description
Don't Be Fooled
When connected to the Internet, your Mac is just another target. It's not your fault; you've been led to believe that Macs are immune to the evils of the Internet. The bad guys are depending on you believing it too. It makes their job of installing malware on your Mac that much easier. Intego knows their tricks and knows how to stop malware before it wreaks havoc on your Mac and your files. This security bundle from Intego will keep your Mac running strong for years to come while protecting important files and personal information. Don't leave yourself at risk.
Why We Love It
Mac's aren't cheap and there is a lot that can go wrong. Viruses, malware, network attacks, dangerous predators, theft of personal data, inappropriate content in front of your kids, system failure and data loss are all real possibilities. Mac Premium Bundle 2013 was created to address each of these issues and offers the protection required to keep your Mac running at it's best.
VirusBarrier 2013
Unfortunately people falsely believe that Mac OSX is impervious to viruses and malware. This couldn't be further from the truth. Although Mac's are highly encrypted, hackers are capable of just about anything. Though chances of being infecter are far less on a Mac OS, you shouldn't leave your digital life and private information up to chance. Install VirusBarrier 2013 and rest assured all your information is safe and secure.
On-demand malware scans, including full scans for maximum coverage of your entire Mac as well as quick scans for day-to-day use.
24/7 real-time protection that watches all file activity and makes sure you're always protected.
Scans for viruses in emails for popular email clients.
Scans for viruses on iOS devices and finds/eradicates viruses found in document directories on the devices.
Application behavior analysis detects suspicious behavior in running applications.
Marks trusted folders to speed up scans.
Net Barrier 2013
You bought a Mac because they are "safe". The problem is, your Mac is no more immune to intrusion than the next computer - unless you vow to never connect to the Internet with it. To the bad guys, your Mac is just an IP Address and open ports, and accessing your personal information via these cyber-criminal gateways is easier than you want to know. Intego NetBarrier blocks unsolicited visitors in their tracks, keeping the bad guys out of your Mac.
Active application list easily identifies applications using bandwidth as well as incoming vs. outgoing bandwidth for each application.
Logical default profiles for the different kinds of networks you connect to (home, public, and work).
Automatic profile switching detects when the network connection changes and makes it easy to select a new profile.
Easily configures primary network channels to/from the Internet and to/from the local network.
Full-time application activity monitoring for anti-spyware measures.
Helps identify rogue applications accessing the Internet to act as zombies, expose your confidential information, or act as backdoors into your computer.
Family Protector
The Internet moves fast. Maybe a little too fast for your children. While the web puts a world of information at their fingertips, it also puts them just one click away from inappropriate websites and dangerous people. Family Protector allows you to create the proper boundaries for any child from toddler to teen. Let them use the web as a portal to the world without the fear that it'll become Pandora's Box.
Blocks objectionable web content, including categories of content, specific web sites, sites with specific keywords, and access to sites requiring https.
Access restrictions custom tailored per user (e.g., one account for yourself and a more restricted account for your child).
History of websites visited for each user account and the ability to easily block/allow a site from the history list.
View history of recorded chats, including the content of the chat and the ID of the chat partner.
Blocks inappropriate emails.
Records keystrokes.
Washing Machine
Worried about the data trail you're leaving across the Internet? Scrub your Mac clean so third parties don't know where you've been or what your habits are. Intego Washing Machine allows you to delete browsing history, cache files stored by browsers and other Internet programs, cookies that store your personal information and habits, and lists of files you've downloaded.
Frees space on your Mac by cleaning the unnecessary files that accumulate through daily use.
Creates multiple "cleanlists" to consolidate cleaning jobs into reusable packages.
Schedules operations to run automatically (schedule cleanlists or individual operations).
Cleans up download and browsing history.
Removes cookies.
Empties caches.
Personal Backup
Intego Personal Backup makes copies of your files for quick and easy recovery in case of theft, data corruption, or natural disasters. Run manual backups or create an automated schedule that backs up your information for you. Whether you want control of your backups or prefer to set it and forget it, Intego Personal Backup's got you covered.
Creates bootable backups to easily rebuild your Mac in case of failure or other problems.
Schedule backups to run when you choose or run them manually.
Backs up to many different types of media such as network drives (including both local and remote drives using FTP), optical disks, or disk images for easy portability.
Creates backups for any folder or combination of folders on your Mac.
Backs up your digital memories and important documents.
Offers a flexible configuration.
System Requirements & Support Languages
Mac OS X 10.6, 10.7, or 10.8.
Mac® computer with Intel® Core 2 Duo processor.
1.5 GB of available hard disk space.
Supports English, French, German, Japanese, Spanish.
Terms
30 day money back guarantee.
License includes all minor upgrades.
This is digital software redeemable instantly after purchase.
License valid for 1 year.