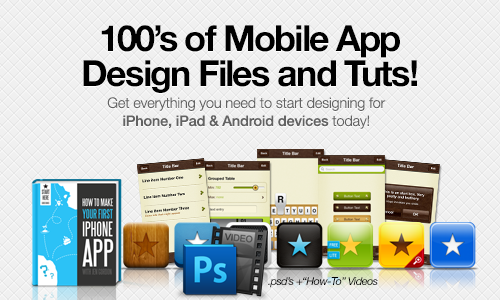 The Mobile App Design Starter Kit
by DesignBoost
Everything You Need To Start Designing For iPhone, iPad, & Android
Description
Become a Mobile Design Rockstar!
App making is competitive as ever and it's only going to get worse. Apps are an awesome opportunity for entrepreneurs to turn an idea into a profitable product with little monetary investment. The problem is, everyone knows this and is trying to get their piece of the pie. This Mobile App Design Starter Kit is EXACTLY what any independent app creator needs to
get ahead of the game
. There are a lot of great ideas hidden behind horrifically designed apps. We all know the typical reasons for poor design such as pricey professional designer prices, lack of themes, or mobile app design just being difficult in general. Fret no more. This comprehensive kit includes everything you need to give your app a snazzy design that will make it
stick out among the competition for only $57
.
A Profitable Skill
Mobile application designers are extremely high in demand. Not only is this Starter Kit great for styling up your own apps, but learning mobile design is a
lucrative
skill since there isn't much traditional education for it. You don't need to create your own app to be a part of this booming market. There are plenty of fantastic apps that just need a simple facelift. This is the PERFECT kit to get your foot in the door.
Designers & Developers Love This Kit...
"My company wanted me to design a mobile app and I had no idea where to start. The kit saved me a ton of time. Thanks Jen." -
Ian B.
"I launched my app with no real graphics and am finding that to stay ahead in the App Store I needed to improve the look. The kit gave me a fresh icon that really boosted the app's visibility." -
John T.
"Every iOS app developer should have this kit in his or her toolbox to make their app look professionnal and make a better first impression to the users." -
JF Martin
What's In The Kit
Editable Design Files With How-To Videos There is A LOT of quality resources included in this kit. Don't feel overwhelmed, highly informative how-to videos are included so you know exactly what each aspect of the kit does and how to use it effectively.
How-To eBook Ever wonder what is the entire process of getting an app made? Whether you're a designer, developer or idea person, this book will help you get a handle on the process and best practices of making apps!
Customizable App Icons 8 unique and completely customizable designs are meticulously designed and organized. Each icon is retina screen ready and measures 114 x 114 pixels. Best of all, they are built using vector shape layers so you can blow it up without compromising quality.
Badges, Icons and Arrows Don't settle for standard badges, icons and arrows! It's super easy to have custom designs for these fun little elements. All of these are sized for the optimal "tap-able" size for both 3.0 and retina screen resolutions.
Buttons & Controls A huge assortment so you can find the perfect fit for your app. Custom designed buttons and segmented controls are a great way to develop a theme that helps your app stand out.
Background Textures Subtle and classy. Getting the proper contrast between background images and on screen elements can be tricky. These backgrounds are designed and tested for both form and function!
Pixel-Perfect App Icons With this Kit you get the largest collection of mobile-centric icons out there. All icons are sized for both 3.0 and retina displays and built using vector shape layers. This means you don't lose any image quality when sizing up or down!
Sound Effects Enhance your app design with the added dimension of sound. Sounds include: "Complete!" "Message Sent" "Color Paper" "Pop/Click" "Shake Up" "Shake Down" "Slide" "SMS Incoming" "SMS Outgoing".
Custom Menus Custom menus are a key aspect of any app and part of the design that will really make your app pop. The kit includes several varieties that can easily be altered for unlimited styles.
Important Reminders
30 day refund policy
All included files can be used as you please for business or personal so you don't need to sweat copyright infringement
All files redeemable instantly via download after purchase
Terms
30 day refund policy
All included files can be used as you please for business or personal so you don't need to sweat copyright issues
All files redeemable instantly via download after purchase