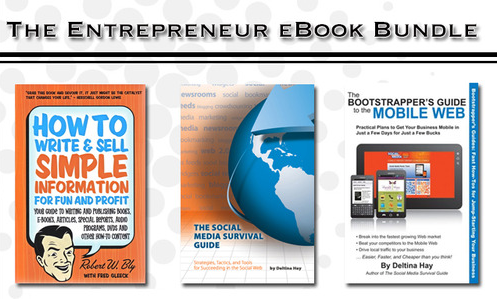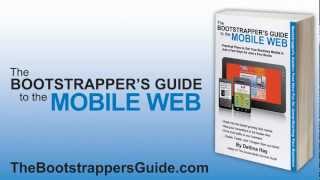 The Online Entrepreneur eBook Bundle
by Linden Publishing Inc.
Three Actionable eBooks That Will Help Turn Your Website Into a Marketing Dynamo
Description
Build Your Knowledge To Build Your Business
The Online Entrepreneurs E-book Bundle gives you access to three books that will help you reach more customers and make
more sales
. The business world is always changing. Universities provide an excellent foundation for a professional career but they sometimes struggle to keep up with modern practices. This bundle is a
must have
for your entrepreneurial library. You've probably spent thousands of dollars on textbooks in your life. Now you can get 3 for $20! The best bang for your business buck! Read more about the included e-books below:
"The Social Media Survival Guide" by Deltina Hay
A completely revised and updated version of Hay's earlier 5-star rated "A Survival Guide to Social Media and Web 2.0 Optimization". This new edition incorporates the latest developments in Social Media.
Don't just manage Social Media. Dominate it.
Your customers are not going to cater to your Social Media strategy. This guide gives you the knowledge to create a tailor-made social media strategy that makes your brand or product shine while increasing your revenue. We know there are tons of social media articles floating around the web. The difference is those articles are primarily written by young professionals and even interns. Deltina Hay teaches social media at the university level for a LIVING. Hay's eats, sleeps, and breathes Social Media. And everything she learns can be found in this must have e-book for any business that wants to maximize their potential.
What You'll Learn
Quick, practical, hands-on introduction to the nuts-and-bolts of social media
Grow your brand
Improve sales, and increase profits
How-to create and use the most advanced Web tools, most of which are free or inexpensive
This kind of book is rarely seen in the tech world. Accessible, smart, and committed to the do-it-yourself philosophy.
"The Bootstrapper's Guide to the Mobile Web" by Deltina Hay
She's back. Detina's Mobile Web Guide is the perfect sequel to "The Social Media Survival Guide". We aren't just creating a hodgepodge of entrepreneurial books. This book stands alone as a quality source of impactful information, but when paired with Hay's Social Media guide, it's a
game changer
.
Get Your Business Mobile in Just a Few Days for Just a Few Bucks
Creating a successful mobile-web presence is achievable with the tips and tricks revealed in this guide. No need to become a programmer or Web designer. Said professionals have already designed thrifty, if not free, tools for you to thrive on the web. This book just shows you how to master those tools. A mobile presence is now a necessity, not a luxury, for all businesses, organizations, and independent professionals to stay competitive.
What You'll Learn
How to utilize mobile web for branding, increased sales, and increased profits
Succinct and effective strategy that avoids jargon and unnecessary programming concepts
Time and money saving solutions that will quickly adapt your existing sites to mobile platforms
Case studies of successful mobile-web transitions for business owners, entrepreneurs, marketing and creative professionals
Create the presence you need to make your business flourish.
"How to Write and Sell Simple Information for Fun and Profit" by Bob Bly
What's a killer social media strategy and mobile platform if you can't write? Perhaps you need to create something of quality to promote via social media or on a mobile platform? Legendary copywriter Bob Bly will show you how to come up with ideas for saleable how-to books, articles, reports, seminars. And most importantly, teach you how to gain attention.
Write for Success
Assuming you have an education, you probably know how to write a mean academic essay. Your customers don't have the time to break down beautifully articulated written words. Your potential audiences time is precious. Make it easy on them! Face it. You're not Shakespeare. Good literature is found in libraries for free. But quality sales content is hard to come by. The truth is people don't want to be bothered by what you are selling. You have to tell them WHY they need it.
What You'll Learn
How to research and write effective, practical content
Writing approaches for magazines, newspapers, traditional book publishers, self-publishing, and the Internet
How to write impactful content that will get published
Live a whole new life as a successful how-to writer and information packager.
Terms
No Refunds
These are the electronic versions of these books