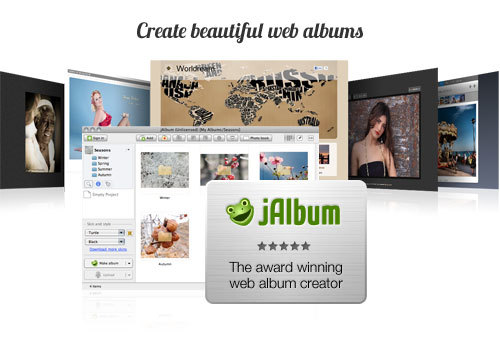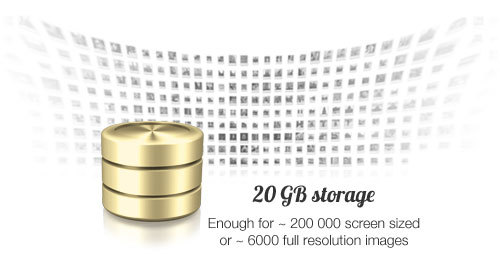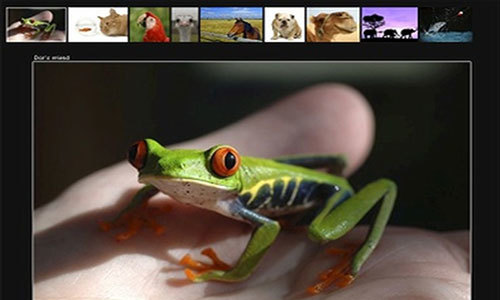 The Phenom Photo Album Bundle
by jAlbum
Create & Upload Beautiful Photo Albums to Your Website
Description
Don't have fun and beautiful pictures on your company's website?
Now you can show off your company's brand and personality through the powerful web album capability of jAlbum.
Tired of the dull album you're using for your blog?
Snag this offer and you'll NEVER have that problem again. jAlbum's skins (photo album designs that you can plug into your website or blog) are
intuitive, clean, and beautiful
; and plus, with the Pro license you can even modify some of the skins to act how you want them to.
Don't even have a website?
We've got you covered. That's why we've included the Power Storage (up to 20 GB of photo storage with jAlbum) that gives you the ability to host and share all of your photos through their website (you get a customized URL). Also, as an added bonus you'll be able to use their iOS app to create and upload albums directly from your iPhone & iPad. Your website's
aesthetics
are EXTREMELY important and is why we've partnered up with jAlbum to give you an endless array of customizable photo albums that you can plug into your website for personal or commercial purposes. For
ONLY $59
this Phenom Photo Bundle will grant you UNLIMITED access to hundreds of AD-FREE skins with the
jAlbum Pro license
, and you'll also get you up to 20 GB of photo storage with
jAlbum's Power storage
. That's enough space for
40,000 photos
so even the BIGGEST photo snapping cookie monster can take advantage of this special offer.
What's jAlbum All About?
jAlbum is an
award winning
desktop software for creating STUNNING web photo albums. It's simple yet one of the most powerful album tools on the planet. With this KILLER offer you'll have an
ad-free
Pro license that will give you endless access to beautiful album designs and you'll also have a year of POWERFUL hosting right on jAlbums website (just in case you don't have a site).
jAlbum Features:
Easy-To-Use Interface - Use drag-and drop to add new photos, or sort them. Create folders to better organize your album. Use the right-click menu (context menu) to access the most frequently used functions, like sorting, rotating, editing or choosing as folder thumbnail.
Edit Images - Adjust your images with the Crop and Straighten tool, fine tune with Gamma and Level or apply various artistic filters, like Sepia, Pixelate or Invert. Plus dozens of other cool tools.
Customize With Skins - Skins are plugins to jAlbum which determine the layout and feature set of the generated albums. Some skins are simple and easy to modify, while others have advanced features, like Google maps integration, video playback or shopping cart integration to name a few.
Upload to Any Site - You can upload your albums to any place on the internet: to your own site, your blog, you can even share an album straight from your hard disk. If you don't own a site, use jalbum.net – our community site – which is specialized on storing, sharing and showcasing albums in a spectacular way.
The Power of jAlbum:
What You'll Get:
1 Year Pro License (access to hundreds of ad-free skins)
1 Year Power Storage (good for storage of up to 40,000 photos)
System Requirements:
PPC / Intel, Mac OS X 10.4 or later
Terms & Conditions
30 day refund policy from the time of your purchase
Albums can be used for commercial or non-commercial use
Use jAlbum with your iPhone or iPad with their new app
1 year Pro license
1 year Power Storage
Terms
Unredeemed licenses can be returned for store credit within 30 days of purchase. Once your license is redeemed, all sales are final.